house boats in kerala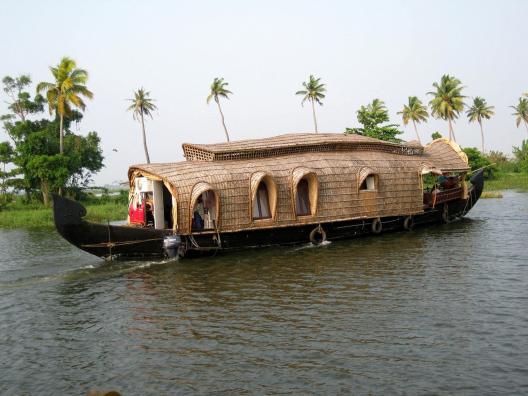 A houseboat is a boat that has been designed or modified to be used primarily as a human dwelling. Some houseboats are not motorized, because they are usually moored, kept stationary at a fixed point and often tethered to land to provide utilities. However, many are capable of operation under their own power.

In India, houseboats are common on the backwaters of Kerala, see below, and on the Dal Lake near Srinagar in Jammu and Kashmir.
Main article: Kettuvalloms

The houseboats in Kerala, south India, are huge, slow-moving, exotic barges used for leisure trips. They are a reworked model of Kettuvallams (in theMalayalam language, Kettu means "tied with ropes", and vallam means "boat"), which, in earlier times, were used to carry rice and spices fromKuttanad to the Kochi port. Kerala houseboats were considered a convenient means of transportation.
The popularity of Kettuvallams has returned in the function as major tourist attractions.
Such a houseboat is about 60 to 70 feet (18 to 21 m) long and about 15 feet (4.6 m) wide at the middle. The hull is made of wooden planks that are held together by ropes of coconut fiber; the usual wood is 'Anjili'. The roof is made of bamboo poles and palm leaves. The exterior of the boat is painted with protective coats of cashew nut oil.
Kettuvallam is a house boat widely used in the Indian state of Kerala. These have thatched roof covers over wooden hulls.[1] The traditional kettuvallam is mainly used for promoting Kerala tourism.[2]


In the Malayalam language "kettu" means "to tie" and "vallam" means boat – the two together make the local name "kettuvallam". Each houseboat is constructed using the ancient principles and techniques of boat building by the local carpenters using 'Anjili' wood. Coir ropes are used for fastening the wooden planks together.[3]
Boats in a variety of shapes and sizes have traditionally been the main means of transport of men and materials in the Kerala backwaters since olden days.[1] In particular, the house boats were used to ship rice and spices and other goods between Kuttanad and the Cochin port. It was a three-day affair in those days. A standard house boat, which could be about 100 feet long, can hold up to 30 tons, about as much as three big lorries can carry.[4] For the royalty these boats even became comfortable living quarters.[1] It was the important mode of transportation in coastal Kerala just because of its accessibility to the most remote areas. However, the scenario changed. Motorized road, rail and air transportation scored over the slow and staid country boat, with people opting for speed.[5]