Hill View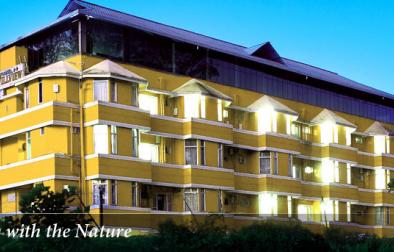 Munnar, in the vernacular, means three rivers. Munnar is the meeting point for rives Muthirapuzha, Nallathanny and Periavurrai.In Munnar – and maybe nowhere else in the world – you could feel the otherwise elusive clouds drop gently onto your shoulders. In Munnar, you could experience the otherworldly feel of the cool mist surround you and invigorated after spending a couple or triple of days at Hillview Munnar.
Well-known globetrotters say Hillview is the best place to stay at in Munnar. They are right. Beyond the tea estates and sprawling across the hills are rich tropical forests abounding in flora and fauna – some of them very rare and exotic. They also contain an assortment of wildlife such as Nilgiri Languor, Sambar, Gaur, Lion tailed Macaques and wild Tusker. Munnar is an ecologically significant spot.
Fort Munnar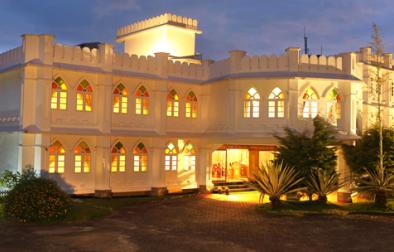 ROYAL GROUP OF HOTELS
Kerala has become one of the most sought after Tourist destinations of the world. Realising the growing potential of this sector, the Royal Group entered into the hospitality industry with its prestigeous project – Fort Munnar. Fort Munnar is a boutique luxury hotel in the hill station of Munnar, at an altitude of 6500 ft above sea level, amidst misty mountains and sprawling tea plantations.
Royal Village, an ethnic village resort in the suburbs of Cochin, built under the concept of eco – friendly holidaying and THE FARM HOUSE, a heritage Tharavadu in the environs of the Royal Village, are the other hotel properties promoted by the Royal Group. These hotels cater to the needs of domestic and international tourists alike.
The Royal Lady, a specially designed luxury yacht of the Royal Group, offers sight seeing cruises through the backwaters with an overnight stay on board the yacht.
The Royal Cruise offers a scenic view of the traditional coastal and backwater lifestyle of Kerala.
PLANTATION
Kerala is predominantly an agricultural state blessed with excellent geographical and climatic conditions suitable for the growth of spices and a variety of other agricultural commodities. The ROYAL GROUP is involved in the plantation of coffee and cardamom. The team of experienced staff at Thachankary Estates in Munnar take special care with all the stages of cultivation from selection of seedlings to the harvest, resulting in an excellent yield of quality spices considered superior to other local varieties. The superior variety of cardamom produced at the THACHANKARY ESTATES in Munnar is regarded as one of the best qualities available.
Grand Plaza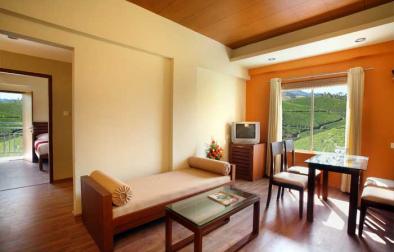 Grand Plaza Munnar is a premium property from EVM Group, one of Kerala\\\'s leading business houses. Started in 1935 as a small enterprise EVM Group has today grown into a conglomerate with diverse business interests including: Cultivation and Selling of Hill products like Cardamom, Cashew and Lemon grass oil including its exports. Supply of Natural Rubber and Rubber products to popular tyre manufacturing Companies of India including Rubber crumbing factories. Entertainment Industry - More than 20 Movie houses spread in Kerala among which \\\'Kavitha\\\' at M.G. Road Ernakulam is undoubtly best in Kerala. C&F agent for TATA Tea & Coffee and Distribution of Reliance Petro Chemicals etc. and Fleet owners of Trucks in the State. C&F Tourism Development through Three Star Hotels and Resorts like Hill view in Munnar, Mountain Club Resorts at Chinnakanal, Isola-Di-Cocco Beach resort at Poovar (TVM), which is tourist's favorites, and Hotels at Adimali and Kothamangalam. EVM Group is the dealer in Kerala for Volkswagen and Nissan. The founder of our Group Mr. E.V Mathai passed away on October 1999, but his dreams are now carried on by his six sons who are committed to steer the group to greater heights.
Silver Tips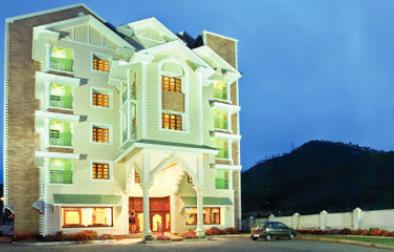 Welcome to Silvertips Munnar
We welcome you to the enchanting Munnar, a picturesque hill station surrounded by undulating hills covered by the vast expanse of tea estates situated at an altitude of 1600 m above sea level. The climate is delightfully refreshing and that what makes it one of the most sought after tourist destinations. The Silver Tips is EVM's another venture in the hospitality segment. Through it, we strive hard to give you the best in luxury at Munnar. Now, discover the enchanting beauty of Munnar.
Forest Haven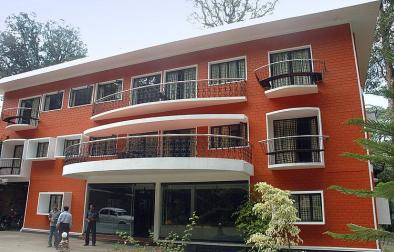 Forest Haven is an eco-friendly resort set amidst cardamom plantations at Kallar, Munnar. The rich flora and fauna of the surrounding forest provides a bewitching backdrop to the resort. The resort has 24 well appointed Suite, Executive & Forest View Deluxe Rooms. Other facilities include: Spacious conference hall, Multi cuisine restaurant, 24 hour coffee shop, Round- the-clock room service, Indoor recreation facilities, Outdoor partying facilities Bonfire and barbeque facilities.
Ayur County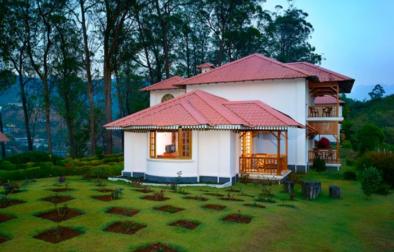 Ayur County offers a world of ultimate luxury within this cradle of enchanting bliss. Unlike conventional resorts, Ayur County is built up of posh two bed room villas surrounded by a lavish spread of unspoiled nature where it casts it\\\\\\\\\\\\\\\'s spell on every drop of dew rendering a magic that sinks you into the tranquil plains above. The resort is built around a natural waterfall, so that our guests can touch the cataract and feel the bounty of nature that is in offer here. Further, Ayur County organises daily sight seeing trips deep into the jungles and trekking expeditions along the wild waterfalls that heavens have hung from the mountains here. Trekking offers an unique insight into the world of high mountain expeditions and survival techniques in the deep forest.